Boys Soccer
Team Schedules
To view Google Maps locations and addresses, click the "Details" link associated with the game.
To subscribe to text notifications or iCal feeds, click the bell icon in the top right of the table.
Live Streaming
Live streaming is available for games played on the home stadium field. Some away games may also be live streamed on occasion. To watch livestreams for these games, click the button below.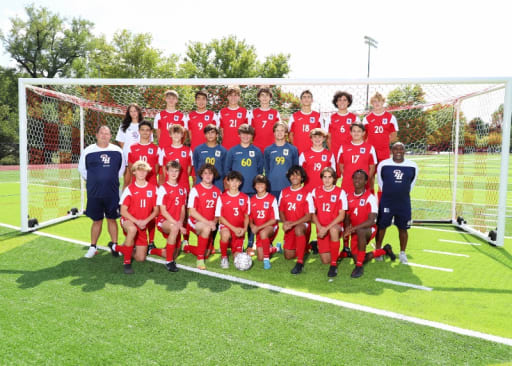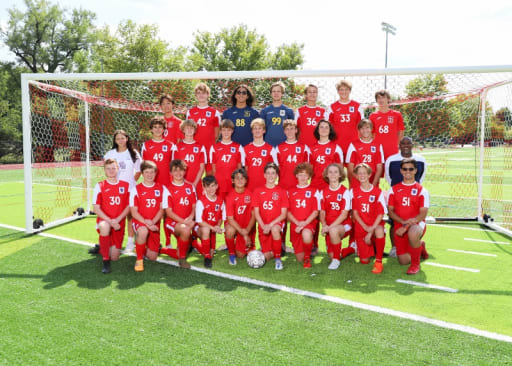 TBD-VIEW 2023 BOYS SOCCER ROSTER
Coach Pritchett has been the Boys and Girls Head Soccer coach at Pembroke Hill since 1999. He has coached for 18 years in the Kansas City area at the club, ODP and high school levels. He holds coaching licenses from both The National Soccer Coaches Association of America and The United States Soccer Federation.


816-936-1376
mpritchett@pembrokehill.org
2022-23
Captains
Evan Barnett, Aidan Lacy, Luka Martinovic

Raider Award Winner
Terry O'Neill
Varsity Letter Winners
Zayn Ahmed, Evan Barnett, Jake Bartlett, Albert Becker, Max Casey, Clark Castro, Sebastien de Pierre,Graham Henry, Beau Herber, Landrum Johntz, Aidan Lacy, Luka Martinovic, Morris McLiney, Oliver Moore, Andrew Nottberg, Dermot O'Connor, Terry O'Neill, Philip Park, William Peryam, Johnny Post, Colin Powell, Alessandro Saitta, Rocco Schiavone, Max Sprott, Niko van Zanten, Alex von Uckermann, Alex Vos, Lauren Legg- manager, Allison Hobbs – manager, Tyler Pritchett – manager
Junior Varsity Letter Winners
Adam Bell, Alexander Brought, Sam Burleson, Theodore Casey, Graham Henry, Will Jermann, Finn Kuykendall, Hunain Malik, Henry Manriquez, Charlie Mihalovich, Coleson Myers, Cooper Myers, Dean Patterson, Will Pierce, Matie Santizo, Konrad Schumacher, Cal Sprott, Miles Van Doren, Nathan Zhao
Team Honors
District - Second Place
Individual Honors
Evan Barnett - First Team All-District
Beau Herber - First Team All-District, Region Four All-Region Team
Aidan Lacy - First Team All-District, Large School All Academic Team, First Team KC All-Metro Big Class, First Team All-State, Region Four All-Region Team and Co-Offensive Player Of the Year
Terry O'Neill - Second Team All-District
Matthew Pritchett - Region Four Private School Coach of the Year
Team Honors
District - Second Place
Individual Honors
Evan Barnett - First Team All-District
Beau Herber - First Team All-District, Region Four All-Region Team
Aidan Lacy - First Team All-District, Large School All Academic Team, First Team KC All-Metro Big Class, First Team All-State, Region Four All-Region Team and Co-Offensive Player Of the Year
Terry O'Neill - Second Team All-District
Matthew Pritchett - Region Four Private School Coach of the Year
2021-22
Raider Award Winners:
Johnathon Dickey, Garrison Hill
Captains:
Corbin Bodamer, Johnathon Dickey, Garrison Hill
Varsity Letter Winners:
Evan Barnett, Corbin Bodamer, Johnathon Dickey, Piersen Foote, Cole Jack Garrett, Graham Henry, Garrison Hill, Andrew Johnson, Aidan Lacy, Konsta Laitio, Luka Martinovic, Nawfal Malik, Andrew McLiney, Terry O'Neill, Phillip Park, Alex Post, Johnny Post, Colin Powell, Ben Priestland, Max Sprott, Eli Toney, Niko van Zanten, P. Henry Whalen, Eli Hazen - Manager
Junior Varsity Letter Winners:
Zayn Ahmed, Jake Bartlett, Adam Bell, Sam Burleson, Max Casey, Theo Casey, Clark Castro, Sebastien de Pierre, Landrum Johntz, Muad Khalif, Martin Legaz, Charlie Mihalovich, Coleson Myers, Andrew Nottberg, Dean Patterson, Rocco Schiavone, Brendan Sotta, Topher Thornberry, Alex Vos
2020-21
Raider Award Winners:
Zachary Abrahms, Grant Baker
Captains:
Grant Baker, Liam Weaver
Varsity Letter Winners:
Zachary Abrahms, Grant Baker, Evan Barnett, Corbin Bodamer,Ross Bunch, Spencer Cross, Charley Davison, Johnathon Dickey, Piersen Foote, Cole Jack Garrett, Luke Gearin, Garrison Hill, Owen Houtakker, Thatcher Johntz, Owen Kessler, Aidan Lacy, Pablo Legaz, Grant Luchinsky, Andrew McLiney, Ben Medlock, Alex Post, Ben Priestland, Jayven Raizada, Ben Sheldon, Oscar Snell, Eli Toney, Liam Weaver, P. Henry Whalen, Ethan Wolf, Stuart Yantis, Brooke Brinton –Manager, Eddie Fromm – Manager, Tatum Robinson – Manager, Maddie Wilkinson – Manager
Junior Varsity Letter Winners:
Wazi Asjad, Clark Castro, William Copaken, Muad Khalif, Luka Martinovic, Quinlan McKinley, Phillip Park, Brady Symon, Alex Vos
C Team Letter Winners:
Zayn Ahmed, Beckett Angrist, Jake Bartlett, Adam Bell, Max Casey, Nicholas Franano, Landrum Johntz, Martin Legaz, Terry O'Neill, William Peryam, Colin Powell, Rocco Schiavone, Topher Thornberry, Niko van Zanten
Team Honors:
-District Champions
-State Tournament: 3rd Place
Individual Honors:
Grant Baker - All-District Team, All-Region, All-State Honorable Mention
Corbin Bodamer - All-District Team, All-Region Player of the Year, First Team All-State
Johnathan Dickey - All-District Team
Garrison Hill - All-District Team, All-Region, Second Team All-State
Aiden Lacy - All-District Team
Liam Weaver - All-District Team, All-Region, All-State Honorable Mention
2019-20
Raider Award Winner:
Oscar Snell
Individual Highlights:
Corbin Bodamer: All District Team, Second Team All-State
Garrison Hill: All-District Team, Second Team All-State
Owen Kessler: All-District Honorable Mention
Oscar Snell: All-District Honorable Mention
Ty Toney: All-District Team, Honorable Mention All-State
Liam Weaver: All-District Team, Honorable Mention All-State
2018-19
Raider Award Winner:
Ty Toney

Team Honors:
-Districts: 1st Place
-State: 4th Place

Individual Highlights:
William Carolan - All Region/All-District, District/Region Offensive Player of the Year, Second Team All-State
Liam Kornitzer - All Region/All-District, District/Region Player of the Year, First Team All-State
Wil Rowland - All Region/All-District
Oscar Snell - All Region/All-District
Ty Toney - All Region/All-District, All-State Second Team
Liam Weaver - All Region/All-Dsitrict, Region/District Defensive Player of the Year, First Team All-State, Class 2 Defensive Player of the Year
Coach Matthew Pritchett - Region/District Coach of the Year (Private)
2017-18
Raider Award Winner:
Campbell Robinson
Individual Highlights
William Carolan - All-Western Region
Michael Innes - All-Western Region, First Team All-State
Liam Kornitzer - All-Western Region, Second Team All-State
2016-17
Raider Award Winner:
Connor Jordan-Hyde
Team Honors:
-Districts: 2nd Place
Individual Highlights:
Luis Alanis - All-District, All-Western Region
Kieffer DeMayo - All-District, All-Western Region, Second Team All-State, Academic All-State
Alex Dickey - All-District, All-Western Region, Western Region Co-Goalkeeper of the Year, First Team All-State, Class 2 Co-Goalkeeper of the Year, Academic All-State
Liam Kornitzer - All-District, All-Western Region
Brandon Washington - All-District, All-Western Region, Western Region Offensive Player of the Year, First Team All-State
2015-16
Raider Award Winners:
Robert Starr, Spenser Thomas

Team Honors:
-KC Class Champions
-District Champions

Individual Highlights:
Thad Blevins: All-District Team, All-Western Region Team, All-State-First Team
Trent Cartmell: All-District Team
Kieffer DeMayo: All-District Team, All-Western Region Team, All-State-Second Team
Alex Dickey: All-District Team, All-Western Region Team, All-Western Region Goalkeeper of the Year, All-State-Second Team
Charlie Hamilton: All-District Team
Brandon Washington: All-District Team, All-Western Region Team, All-State-First Team
2014-15
Raider Award Winners:
Jack Malone

Team Honors:
-District Champions

Individual Highlights:
Luis Alanis: All-District Team, All-Western Region Team, All-State-Second Team
Thad Blevins: All-District Team, All-Western Region Team, All-State-Second Team
Kieffer DeMayo: All-District Team
Charlie Hamilton: All-District Team
Anton Nagy: All-District Team, All-Western Region Team, All-State-Honorable Mention, Academic All-State Team
Brandon Washington: All-District Team, All-Western Region Team, All-State-First Team
2013-14
Raider Award Winners:
Patrick Innes

Individual Highlights:
Thad Blevins: All-District Team, All-Western Region Team, All-State-Honorable Mention
William Block: All-District Team, All-Western Region Team, All-State-Second Team
Ben Davis: All-District Team, All-Western Region Team
Patrick Innes: All-District Team, All-Western Region Team, All-State-Honorable Mention
2012-13
Raider Award Winners:
Parker Sterneck

Individual Highlights:
William Block: All-District Team
Natty Crenner: All-District Team
Patrick Innes: All-District Team
Parker Sterneck: All-District Team
Pembroke Hill - second place - 1986
Pembroke Hill - second place - 1987
Pembroke Hill - fourth place - 1988
Pembroke Hill - third place - 1990
Pembroke Hill - third place - 1992
Pembroke Hill - third place - 1995
Pembroke Hill - third place - 2020
Pembroke Hill - second place - 2002
Pembroke Hill - second place - 2004
Pembroke Hill - third place - 2006
Pembroke Hill - second place - 2007
Pembroke Hill - fourth place - 2008
Pembroke Hill - third place - 2010
Pembroke Hill - second place - 2011
Pembroke Hill - fourth place - 2018
Pembroke Hill - third place - 2020