Cross Country
Team Schedules
To view Google Maps locations and addresses, click the "Details" link associated with the game.
To subscribe to text notifications or iCal feeds, click the bell icon in the top right of the table.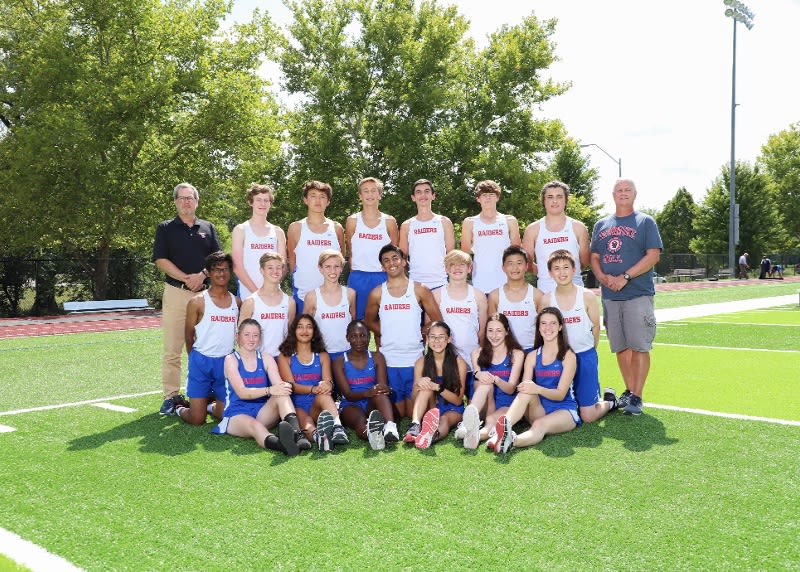 TBD-VIEW 2023 CROSS COUNTRY ROSTER
Amanda Stockman is beginning her first year as head coach of the cross country team. Amanda, also a PHS middle school art teacher, has been coaching at the school for the last 12 years. She previously served as varsity head track and field coach at North Kansas City High School, and as middle school cross country and track coach at Northgate Middle School in the North Kansas City School District. Amanda has been teaching art at PHS for the last 17 years.
816-936-1530
astockman@pembrokehill.org
2022-23
Raider Award Winners
David Bell and Avery Newmark
Captains
Carter Rostron and Erin William
Varsity Letter Winners
David Bell, Salem Deel, Reaghan Gaffney, Jayden Ghuman, Andy Greaves, Tegegne Jones, Brody McCrary, Avery Newmark, Ben Palmet, Uso Pedraza-Si, Henry Pickert, Carter Rostron, Luke Ryan and Erin William
Junior Varsity Letter Winners
Owen Abbott, Kerav Agarwal, Mina Bradley, Nicholas Chao, Michael Siragusa, Eric Su
Individual Honors:
David Bell - All-District, Class 3 State Qualifier
Henry Pickert - All-District, Class 3 State Qualifier
2021-22
Raider Award Winners:
Reaghan Gaffney, Max Sproull
Captains:
Will Greaves, Max Sproull, India Williams
Varsity Letter Winners:
Tate Angrist, Jesse Chan, Reaghan Gaffney, Andy Greaves, Will Greaves, Sam Kennedy, Brody McCrary, Ben Palmet, Luke Ryan, Max Sproull, Sarah Stockman, Darwin Torrance, Erin William, India Williams, Eden Young
Junior Varsity Letter Winners:
Savino Go, Jemel Johnson, Robert Read, Fisher Reitz, Carter Rostron, Henry Ruland
Individual Highlights:
Tate Angrist: All-District
Sarah Stockman: All-District
Eden Young: St. Pius Inv. Champion / All-District / All-State
Erin William: All-District
India Williams: All-District
Andy Greaves: All-District
Max Sproull: All-District
Team Highlights:
Girls: Platte County Inv. 1st Place, Grain Valley Inv. 1st place, St. Pius Inv. Runners-up, District Champions, 6th place at State Meet
Boys: Grain Valley Inv. 1st place
2020-21
Raider Award Winners:
Jackson Hargroves, India Williams
Captains:
Alice Guo, Jackson Chu, Jackson Hargroves
Varsity Letter Winners:
Jesse Chan, Jackson Chu, Aidan Colligan, Reaghan Gaffney, Savino Go, Sophia Gotham, Andy Greaves, Will Greaves, Alice Guo, Jackson Hargroves, Sam Kennedy, Julian Nunez, Ella Palmet, Robert Read, Carter Rostron, Max Sproull, Darwin Torrance, Erin William, India Williams, Andra Brown - Manager
Junior Varsity Letter Winners:
Ali Khan, Henry Ruland
Team Honors:
Boys Team:
2nd Place - Grain Valley Invitational
2nd Place - District Meet
14th Place - State Meet
Individual Honors:
Jackson Chu - All-District / State Qualifier
Will Greaves - All-District / State Qualifier
Alice Guo - All-District / State Qualifier
Jackson Hargroves - All-District / State Qualifier
Ella Palmet - All-District / State Qualifier
India Williams - All-District / State Qualifier
2019-20
Raider Award Winners:
Jackson Chu, Alice Guo
Individual Highlights:
Jackson Chu: All-District / State Qualifier
Jackson Hargroves: All-District / State Qualifier
2018-19
Raider Award Winners:
Coleman Gliddon, Nora Sjue

Team Honors:

Boys:
2nd Place - Platte County Invitational
2nd Place - Grain Valley Invitational
2nd Place - Districts
16th Place - State
Individual Highlights:

Boys:
Jackson Chu - All-District, State Qualifier
Coleman Gliddon - All-District, State Qualifier
Thomas Way - All-District, State Qualifier

Girls:
Daniela Rodriguez-Chavez - All-District, State Qualifier
Ella Palmet - All-District, State Qualifier
2017-18
Raider Award Winners:
Emlen Brown, Julia Rosher
Team Honors:

Girls:
2nd Place -District
10th Place - State
Individual Highlights:
Emlen Brown - All-District Team, State Qualifier (12th fastest PHS time at State all-time)
Coleman Gliddon - All-District Team, State Qualifier
Thomas Way - All-District Team, State Qualifier
Julia Rosher - All-District Team, State Qualifier (18th fastest PHS time at State all-time)
Hadley Jetmore - All-District Team, State Qualifier (third fastest freshman PHS time and 23rd fastest PHS time at State all-time)
Daniela Rodriguez-Chavez - All-District Team, State Qualifier
Boys
Pembroke Hill - second place - 1990

Pembroke Hill - third place - 1992

Pembroke Hill - third place - 2001
Girls
Pembroke Hill - fourth place - 1992

Pembroke Hill - third place - 1993

Pembroke Hill - fourth place - 1997

Pembroke Hill - third place - 2002

Pembroke Hill - second place - 2003

Pembroke Hill - fourth place - 2004

Pembroke Hill - second place - 2005